Week 14 Fantasy Football Player Rankings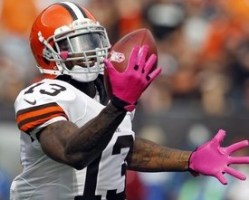 The fantasy football playoffs officially start in the majority of leagues in week 14, so it's clearly extremely important to get the right lineup ready to roll. You're either starting the playoffs or a week away, but either way, you likely need some strong fantasy options to carry you to a win this week.
A good way to start preparing is to check out my weekly fantasy football player rankings. I've hovered around the top-20 over at fantasypros.com's expert rankings contest all year long, and currently sit at #18. That means I generally have my finger on the pulse of what's going on in fantasy, and you can feel better about trusting my gut instinct.
Below you'll find my player rankings for week 14, but before I dive right into the ranks, let's breakdown some specific players I love and hate at each position for the week:
Quarterbacks
Peyton Manning was my #1 QB, and he might have made it to the top spot if it hadn't been for Denver settling for 100 field goals. Still, I think I've got a hold on the quarterback position this week. I'm looking for a top-10 effort from Colin Kaepernick after a bit of a flop last week. He faces a weak Miami defense. I also like Jaker Locker a bit more than most of the experts. His matchup with the Colts looks good on paper. I also like Tony Romo much more than most. I know Cincy has been solid on D, but call this one a gut call. Besides, he's been on a tear, so it'll be hard to stray from him. On the other side, I'm not high on Matt Ryan against a stingy Panthers pass D, while I'd also avoid Philip Rivers against the Steelers
Running Backs
Something tells me Bryce Brown's hot roll continues against a solid Buccaneers run defense. Same goes for Adrian Peterson against the Bears – although no Brian Urlacher should help a lot. I also like CJ2k a lot against the Colts, while in that same matchup Vick Ballard could be in for a nice day against a bad Titans defense – especially with Donald Brown inactive. On the flip-side, I'm not overly high on Stevan Ridley, Matt Forte, Ryan Mathews or Reggie Bush due to tough matchups.
Wide Receivers
I'm high on Josh Gordon against the Chiefs this week, while I think Torrey Smith is due for a big game and should get you just that against a bad Redskins pass defense. Carolina somehow limits the opposition pretty well, so I'm ranking Julio Jones and Roddy White lower than usual. The return of John Skelton could help Larry Fitzgerald a lot, too. If Jordy Nelson is out this week (and he looks to be), I like Greg Jennings to finally pay off for you against the Lions at home.
Tight Ends
I think Vernon Davis is due and a matchup with a soft Miami pass D only helps his cause to get it going again. Jermichael Finley is another middle of the ground TE right now that I wouldn't mind using, as he faces the Lions and he scored against them last time.
For kickers and team defenses, just hit the rankings or hit me up via Twitter @NFLSoupKevin.
About the author:
Kevin Roberts
Kevin Roberts owns and operates NFL Soup and heads the fantasy football division of the site. Roberts also finished 2nd in the Wide Receiver position in Fantasy Pros expert fantasy football rankings in 2010 and 3rd in the Quarterback position in 2011. In addition to running the fantasy football section of the site, Roberts contributes to NFL Soup's NFL Draft coverage and breaking news reporting. Follow Kevin on Twitter @NFLSoupKevin